Initial reports for January and February of 2023 reflect promising news for ConstructionOnline - new and current customers alike are eagerly taking advantage of new multi-year subscription contracts being offered for the #1 ranked construction management software.
ConstructionOnline began offering the new multi-year contracts on a exploratory basis in the latter months of 2022. The ConstructionOnline Sales Team immediately reported overwhelming success when presenting the new multi-year contract options to new accounts and renewing customers, and in 2023, the multi-year contracts have become a standard option for companies subscribing to ConstructionOnline's construction project management platform.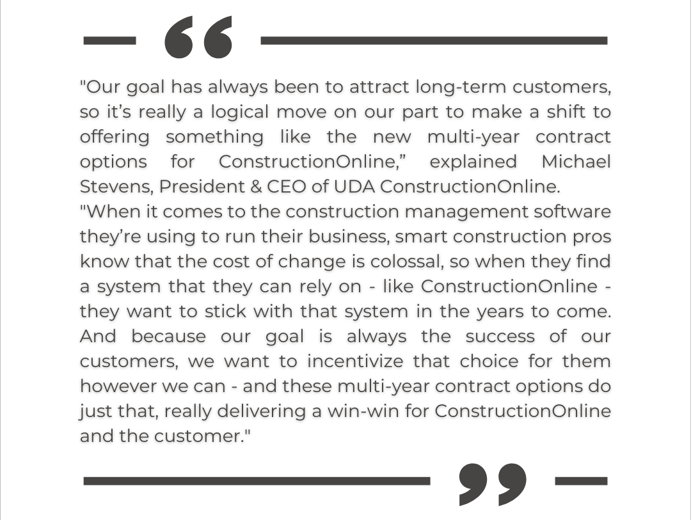 Available on a 2- or 3-year basis for customers starting, upgrading, or renewing a ConstructionOnline subscription, new multi-year contracts also include options that allow for automatic annual draft or upfront prepayment of the contract total.
Multi-year subscription contracts are exclusively available for subscription to ConstructionOnline™ 2023. To learn more about multi-year subscription contracts or inquire about your eligibility, contact a UDA Product Specialist at 800.700.8321.